C
ookbook containing tips and tricks that will get women into your bed by taking advantage of their gullible love for astrology.
The right mix of the ingredients – astrology, good food, music, atmosphere and wine – will definitely get him laid. With beautiful photography by Jaap Vliegenthart.
F
rom the creators:
We, the creators of the ultimate cookbook for men:
Meals That Get You Laid, proclaim to be "the gods of sex and food"
Immodest? Probably. But the fact stays, that we invested 10 years in creating a cookbook, or rather a manual, that really works.
If you follow the clues in the book; the right ingredients for the right woman, than we guarantee your succes. A dash of atmosphere, a teaspoon of good music, spiced up with the right drinks, will make the male cook irrisistable for any woman.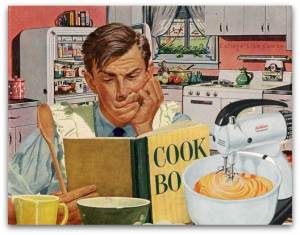 A cookbook containing all tricks to make any woman yours, by using the right ingredients, atmosphere, music and drinks.
Based on what only women believe in: Astrology
A manual of which we can honestly say: Meals That Get You Laid!